2015 Clayton Decoy Show Contest Winners
2014 Decoy Winners Spreadsheet 
Archive:
2013 Decoy Show Contest Winners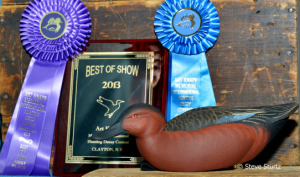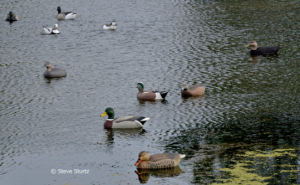 2016 Event Dates:
Friday & Saturday
 July 15 & 16, 2016
Annual Decoy/Wildlife Art & Sporting Collectibles Show
Cerow Recreation Park Arena
Clayton, NY
Exhibit Hours:
Friday, July 15       9:00 a.m. to 6:00 p.m.
Saturday, July 16    9:00 a.m. to 4:00 p.m.
Admission: Adults:  $5 , Children Under 11: Free, Military with ID: Free
For the Benefit of Thousand Islands Museum
2016 Schedule –
Friday 11 am:   Vintage Decoy Contest
Friday 11:00 pm: 
 Art Knapp Memorial Hunting Decoy Contest
Underwritten by Wellesley Island Building Supply
All decoys will be on display on the first floor at the rear of the building until 3pm Friday.
Friday 1pm:   Auction by Chappy –  Decoy & Collectibles Auction
  – Preview before auction
Saturday 10:00 am:
 Ken Harris Gunning Rig Contest
Underwritten by Garlock Lumber & Hardware
Saturday 10:00 am:
 Pfc. Jack T. Sweet Memorial Gunning Pairs Contest
Underwritten by Coyote Moon Vineyards
Friday – Saturday until 3:00pm: Silent Auction
Best of Show Winners are on exhibit at the Thousand Islands Museum.  Plan to visit while you're here!